Whitewater Rafting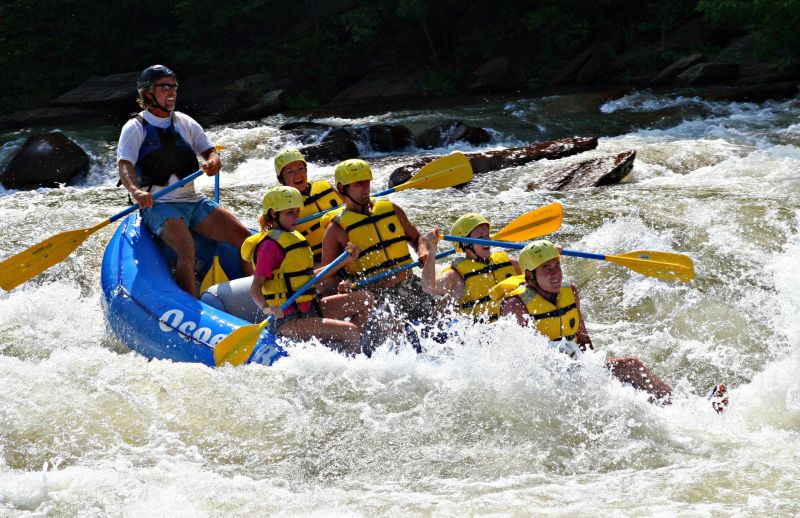 Feel an adrenaline rush like no other and conquer the roaring rapids of the Ocoee River! Ocoee Rafting, the oldest whitewater rafting company on the Ocoee River, welcomes you to miles of challenging Class III and IV rapids on one of the country's premier rivers. No experience is needed to enjoy the adventure of whitewater rafting on the world class Ocoee River. Ocoee Rafting boasts an unparallel safety record and some of the best and most experienced guides in the business ensuring that you will have a fun filled and safe trip!
The Middle Ocoee Trip is on a 5 mile stretch of river that takes you through such rapids as Grumpy's, Broken Nose, Diamond Splitter and Table Saw. This is a very popular trip and offers fun and excitment for everyone.
The Upper Ocoee Trip is dam-controlled and is located just upstream from the Middle River. The Upper Ocoee is the sight of the 1996 Olympic Whitewater competition and has 5 miles of cascading Class III and IV rapids along with pristine whitewater wilderness.
The Full Ocoee Trip is a combination of the Middle River and the Upper River and offers an exhilerating day of adrenaline and excitement on continuous Class III and IV whitewater action. This trip takes about 3-3.5 hours ensuring you action packed adventure from start to finish!
Whitewater Rafting "season" runs from the last weekend in May until the last weekend in October. Prices and times vary depending on trip dates and times. Tennessee State Parks require that riders be at least 12 years of age to go rafting. Prices range from $35 to $100 per trip, so please contact us for more detailed pricing information.
---
1548 Hwy 68
Ducktown, TN 37326
Share US!







Add To Favorites