Mercier Apple Orchards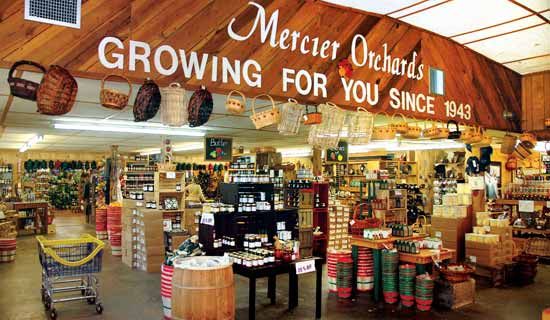 Mercier Apple Orchards, located in the Blue Ridge area of the North Georgia Mountains, has been featured and celebrated in multiple publications including Southern Living Magazine. Considered the best apple orchard in the entire Southeast, they are experts on all things apples! They make homemade award winning apple pies, apple donuts, cider, apple butter, jelly, and much more! When you arrive at Mercier Apple Orchards, you are greeted with gorgeous panoramic views of rolling orchards with mountains as the backdrop. You can smell the warm fragrance of fresh baked goods as soon as you step out of your car, and the smell just intensifies as you walk in the door. Mercier's Apple Orchards is much more than a simple apple orchard. They have a cafe with delectable food, fresh fruits and vegetables, mountain home decor, fresh cut flowers, and homemade candies. They also host U-Pick events almost every weekend where kids can take a tractor ride through the orchard and pick fresh blueberries, apples, blackberries, or strawberries to their hearts content! Mercier Apple Orchards is a destination in itself and a must see attraction when you visit the Blue Ridge area of North Georgia.

---
8660 Blue Ridge Drive
Blue Ridge, GA 30513
Share US!







Add To Favorites